Tea eggs have long been a popular savory snack in China. The secret lies in the cracking of the egg shells and the steeping of the eggs in a soy sauce and black tea mixture with five-spice powder. You can purchase five-spice power from an Asian grocery store, online
or make your own.
Prep Time:  15 min     Cook Time: 30 min      
Marinate Time: 6 hours
Ingredients
12 eggs
1 cup soy sauce
4 tablespoon black tea leaves or 4 tea bags
1 1/2 tablespoon five-spice powder (including star anise, cloves, cinnamon, fennel seeds, and peppercorns)
2 tablespoon Szechuan peppercorn
2 teaspoon sugar
Directions
Cover eggs with water in a pot, and bring to a boil.
Turn the heat to medium low and cook for 4 minutes.
Remove eggs using a slotted spoon, but keep the boiling water in the pot.
Rinse the eggs with cold water.
Once cooled, tap gently the egg shells with the back of a spoon until it is covered by cracks . (The more cracks, the richer the chestnut coloring and the more the marbling patterns the egg will have.)
Return the cracked eggs to the pot.
Add remaining ingredients into the pot and bring to a boil.
Reduce heat, cover and simmer for 30 minutes.
Remove from heat and let steep for at least 6 hours.
Eat as a whole as snack or cut into smaller pieces as side dishes.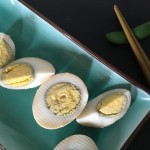 Tips
Sichuan peppercorn is available in Chinese grocery stores or online spice specialty stores.
It has a very unique flavor and is difficult to substitute. For each tablespoon of Szechuan peppercorns, you can try 2 teaspoon black peppercorns plus 1 teaspoon finely granted lemon zest for substitution.
Black tea is typically used for tea eggs, although you can explore any teas with flavors you like.