This healthy rice recipe only takes 5 minutes to prepare, then lay back and relax –  let the rice cooker to take care of the rest!
Prep Time: 5 min      Cooking Time: 45 min
Yield: 6 servings
Ingredients:
1 medium onion, chopped
3 garlic cloves, chopped
3/4 teaspoon cumin seeds
2 tablespoon olive oil
2 1/4 reduced-sodium chicken broth or water
1 cinnamon stick
3/4 teaspoon sugar
3/4 teaspoon black pepper
1 teaspoon salt
1 1/2 cup basmati rice or long grain rice
Directions:
Sauté onion, garlic, cumin seeds with oil over medium heat. Stir until onion is beginning to soften, about 3 minutes.
Add the mixture and all the remaining ingredients into a rice cooker.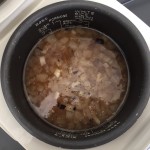 Mix well and cook until it is done.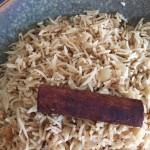 Discard cinnamon stick before serving.